NEAC Exhibition, Bondgate Gallery, Alnwick
13th May to 29th June 2020
Following our previous well-received exhibitions of 20 x 20cm pictures, the newly refurbished Bondgate Gallery, Alnwick, at the Playhouse Theatre, has invited us to hold another this year. The exhibition will run from May 13 to June 29. Framed paintings will be for sale at a fixed price of £50 each.
In-House new permanent exhibition "Nick's Wall"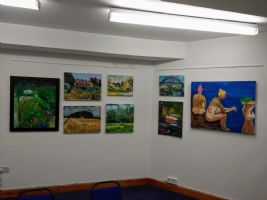 Our club room exhibition space is now in use, initially featuring a selection of vibrant and colourful paintings by Nick Broome. We are grateful to Nick's widow Susannah for the loan of this work.
It was Nick who championed the idea that the club should have its own space for members to display their work. It is for that reason we call the space 'Nick's Wall', in his memory.
Nick's paintings will be displayed until the end of 2019, thereafter the space will be opened up to any club member (or group of members) wishing to use it. The wall will be bookable for one month periods.
January 2020

Tim Griffiths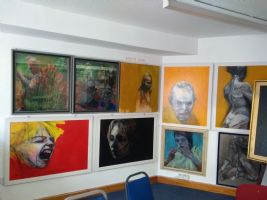 March 2020 Malcolm Yorke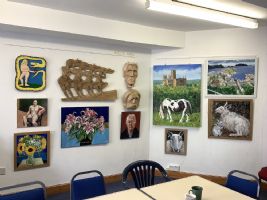 North of England Art Club Shows and
Members showing work in Galleries
Judy Appleby showing paintings at The Old School Gallery Alnmouth (ongoing)
and at The Biscuit Factory (website only)
Harry Bell and Tim Griffiths showing paintings at The Shipley Gallery Gateshead, with Gateshead Art Club.
Sandra Haney at
Dockside Gallery Berwick upon Tweed Nov-Dec2019
Original Print Exhibition Newcastle Arts Centre 23Nov19-Jan20
Thought Foundation, Birtley 14 Nov19-24Dec19
West Yorkshire Print Workshop, Mirfield 9Nov19-21Dec19
The Biscuit Factory (ongoing) and Northern Print (ongoing)
Southbank Printmakers Gallery London, 6-19 April 2020
Judy Appleby's work at the Autumn Show at The Biscuit Factory 6th sept-3rd November
"STILL LIFE - REAL LIFE" an exhibition of members' work to coincide with...
The Late Shows
of Newcastle upon Tyne and Gateshead
16th-18th May 2019
at The Assembly House, 55 Westgate Road an exhibition of members' Still Life and Portrait paintings along with painting activity for visitors on the Late Shows Saturday evening
The North of England Art Club
exhibiting members' art work at
The Jesmond United Reform Church, Burden Terrace Jesmond NE2 3AE
from Wednesday November 14th - Sunday November 18th 2018
see Gallery "Jesmond show"
Charlie Parker solo show at The Arts Centre, Biddick Lane Washington
14th September - 27th October 18
Judy Appleby
"Stones and Structures" solo show of new work at The Old School Gallery, Alnmouth
1st September - 15th October 18.
The "Friends of The Hatton" annual show 2018 is on now at the Newcastle University Long Gallery until 3rd August.
Several members have work on show including Stuart Jones, Judy Appleby, Ian Davison, Malcolm Yorke and Jean Taylor.
North of England Art Club annual exhibition to be held at St George's Church Hall, Osborne Rd. Jesmond
Saturday 28th April 10.00-16:00, Monday1st May - Friday 4th May 10:00-16:00 and Saturday 5th May 10.00-1.00
There will be recent work by club members, most for sale.
Open OCEAN exhibition at Woodhorn Colliery Museum
10th Feb - 7th May18 (use Links page for location details and opening times)
An exhibition of 120 paintings and art works by local NE artists on the theme of the North East Coast and its seafaring heritage
members Tony Harrison, Joe McGregor, Stephen Elson, Ian Hancock and Judy Appleby have work on show
8th August 2017 - 23rd September17
Alnwick Playhouse 20x20 show of small works, fixed price of £50 each by members of The North of England Art Club. The theme this year will be "people and faces".
2017
North of England Art Club
Annual Show
in the Arts Centre's historic building 55 Westgate Road. Newcastle-upon-Tyne.
Saturday 20th May 10:30am-10:30pm open for the Late Shows
Tuesday23rd May - Saturday 27th May
23rd and 24th September 2016
HolyT Art Fair, Jesmond. Network Artists NE
ALNWICK PLAYHOUSE June 2016
80 small original paintings by club members will be on display at Alnwick Playhouse Bondgate gallery from 1st June to 3rd July.
The theme is "Northumberland and Newcastle" and all the works (paintings and pastels) are 20x20cm framed in white and for sale at a fixed price of £50.
See also GALLERIES "EXHIBITIONS 2016"
John Proud has had his painting `Il Cavallino Rampante` accepted for the Guild of Aviation Artists` Annual Exhibition to be held at THE MALL GALLERIES London 18-24 July 2016.
It shows the Nieuport 17 of Francesco Baracca flying over the Alps during World War One. Baracca was killed in 1918, and after the war, his mother suggested to Enzo Ferrari that, in her son`s memory, he should use the prancing horse symbol on his cars. It has been used on Ferrari cars ever since.
To coincide with the LATE SHOWS the North of England Art Club will exhibit recent work on the theme of "Northumbria, People and Places"
Friday 13th May from 12;30 to Saturday 14th May 21.00
The venue is 71 Westgate Road also accessed from BLACK SWAN COURT
Judy Appleby has recent paintings on exhibition at The Biscuit Factory Autumn Show
15th September - 13th November 2015.
7th - 30th MAY 2015
to include the LATE SHOWS
The North of England Art Club show of paintings on the subject of "COAL" at The Newcastle Arts Centre
7th and 8th May 5:00pm - 7:00pm
Carmen Gordon has being doing an art foundation course in Newcastle College.
She is part of the group of SIXTEEN exhibiting their end of year work on "Tyne and Ouseburn" at Blandford Square Gallery. Carmen was also the exhibition organiser.
Judy Appleby's Northumbrian Landscapes
at
The Bob Abley Gallery, Spennymoor Town Hall, Spennymoor,
Co.Durham
From 13th September to 24th October 2014
Preview by invitation 12th September 7:00pm
Exhibition of Harry Bell's work in Gateshead Library May/June 2014
The NEAC show was held at The Newcastle Arts Centre Studios to coincide with The Late Shows May 2014
see report on events page
Park View Shopping Mall, Whitley Bay
Wednesdays to Saturdays
Wed 4th Dec to Sat 21st Dec13There were about 100 original framed art works in oils acrylics watercolours or pastels on sale at affordable prices (from less than £100 to under £650). A small selection of prints and unframed originals were also available.
The Biscuit Factory
Members Ray Campbell and Kevin Day, with Bernie Wisniewski have this past year been working towards a selling exhibition of "plein air" images of the River Tyne from source to mouth. The exhibition will now take place at the Biscuit Factory starting with an Invitation only Preview Night on Friday 22nd of November & will run for 1 week until 29th of November Admission Free. Half of any sales generated will be donated to the Childrens Heart Unit at the Freeman (CHUF).
The North of England Art Club
Friday 17th May and Sat 18th May 2013
Two of John Proud's paintings have been accepted for this year's
Open Exhibition of the Guild of Aviation Artists'.
This will mark twenty five years John's exhibiting with them.
He will also be adding to the paintings he has on show in the
permanent exhibition at the Dumfries Aviation Museum.
Club members have work on exhibition this Spring/Summer as follows (in date order):



The Federation of Northern Art Societies Annual Exhibition 

at




from 1st - 29th September. Open Wed-Sat 10-5 and Sundays 12-4

see gallery "FNAS2012"




Paintings by members Julie Ingram, John Fulthorpe, Ian Gow, Ray Ball, Ian Davison, Steve Telford, Tim Griffiths, Judy Appleby, Wendy Ranadé, Bruce McNiven, Tony Harrison, Angela Harper and Ian Hancock.
The 'Friends of The Hatton' Summer Show ran from June to 18th August at The Hatton Gallery, Newcastle University:
Members exhibiting include
Tom Lawson, Tony Harrison, Pavel Novak, Isobel Taylor Jean Taylor...
Harry Bell's solo show.
The show ran from 3rd - 25th August at The Newcastle Arts Centre Westgate Road.
Preview 2nd August 6-8pm.
Angela Harper and Joe McGregor at High Head Gallery, Ivegill in the Lake District
The exhibition ran from June 21st to August 14th 2012
Tony Montague and Harry Bell had a joint exhibition starting Monday 2nd July and running until Monday 30th July at The Bailiffgate Museum Gallery, 14 Bailiffgate, Alnwick
John Proud had two paintings accepted into this year's Aviation Paintings of the Year Exhibition of the
Guild of Aviation Artists at the Mall Galleries, London.